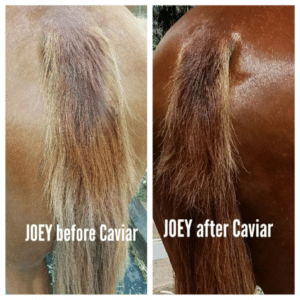 Certified Pet Aesthetician,Studio Grooming, San Pedro, CA
Joe'ys coat, mane and tail were very dehydrated ONE BATH hydrated his coat and brought back the color and shine.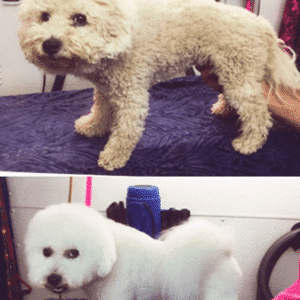 Canine Designs Mobile Grooming Lemoore, CA.
What a difference ONE BATH can make! Winston just needed one bath with Traditional Green Apple shampoo and conditioner to look this white! And there was no need to wash him twice. All it took was 1/2 teaspoon shampoo (diluted 1:3) sitting for 5 minutes to get him back to his dazzling self.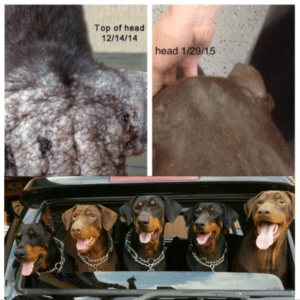 Certified Pet Aesthetician,Studio Grooming, San Pedro, CA
The most dramatic transformation we have seen wasn't just one Doberman, but six! A mother and her pups all had severe skin infections and were close to euthanasia. Cate Garcia used her extensive knowledge of Iv San Bernard Products and techniques to take, what turned out to be MRSA, and turn it into healthy skin, coat and pets, She used ISB Therapeutic products and the Ozone Hydro Massage Spa.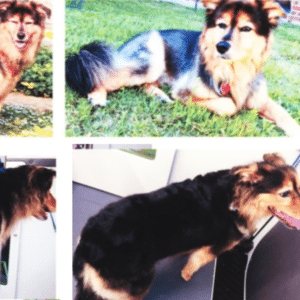 Owner/Groomer of Scrub A Pup Pup, Kingwood Texas
Henry had very dry and damaged coat with pigment loss. Certified Pet Aesthetician, Kilyn Horton, used products that nourish and hydrate the skin and coat and strengthen the hair. Henry got his beautiful coat and color back in 4weeks! Henry had weekly baths with Mineral H shampoo and PH Balanced conditioner (with added Orange PEK, Gingko Oil, and Ozonized Olive Oil).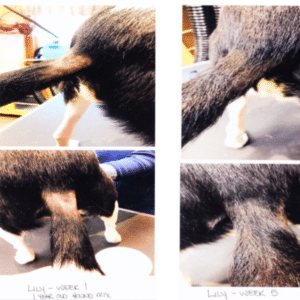 Owner/Groomers, Bow Meow Regency, Sheffield, MA.
Lily was diagnosed by a veterenarian with Superficial Folliculitis, believed to be flea bite dermatitis. Certified Pet Aesthetician, Honor Blume, was able to resolve her skin issues using ISB Therapeutic products, then grow back hair with Mineral H shampoo and pH Balanced conditioner.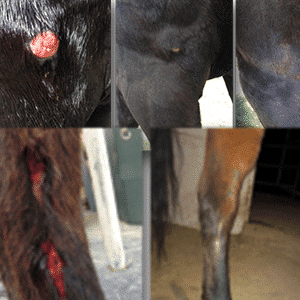 This horse puncture wound healed in 6 weeks without aggressive scrubbing or harsh, medicated treatments. The owner used ISB therapy line products weekly to get fast results.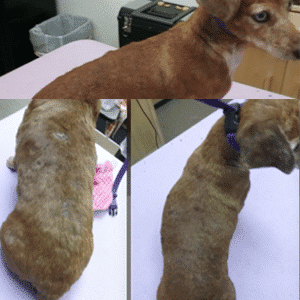 Certified Master Groomer, The Spa at Animal Health Services, Cave Creek, AZ.
Just because a pet has a systemic disease (Cushings, thyroid, diabetes) or illness does not mean they cannot look and feel better with healthy skin and hair., Weekly grooming with ISB Therapeutic products and then Ozone Hydo Massage Spa provided relief to Chloe's infected, itchy, dry and sensitive skin. Her veterinarian continues to treat her disease internally, but she feels so much better thanks to good grooming products for the outside.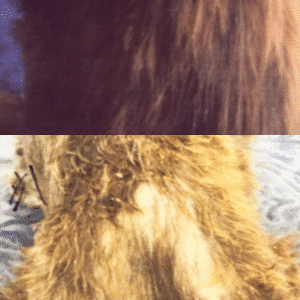 Canine Designs Mobile Grooming, Lemoore, CA.
Skin infections, and the resulting hair loss, can ge effectively resolved using non-medicated bacteria and fungus fighting shampoos and a gentle, hydrating and balancing conditioner. Someone had a several areas of bald, thick skin that were stinky, itchy and warm to the touch. Certified Pet Aesthetician, Steve Walters, used the ISB Therapeutic product line to address these issues, then grow hair. During the shampoo step, Samone was placed in the Ozone Hydro Massage Spa which significantly reduced the therapy time. Her skin infection is gone and hair is growing back nicely after 6 weeks of weekly visits.