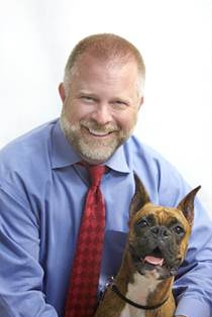 DVM Iv San Bernard USA
Cliff Faver
"Realizing that a pet's groomer may handle the pet four times more often than its veterinarian, I encourage, promote and practice strong communication between the veterinarian and groomer. In fact, groomers may be the first line of defense for the pet's health by recognizing and communicating when a pet needs medical attention. To achieve optimal health for pets, I truly believe in closing the gap between veterinarians and groomers."
Dr. Cliff Faver, a 1987 graduate of Colorado State University, is the founder/owner and chief veterinarian of Animal Health Services and recently became the US distributor for Iv San Bernard Italian pet grooming products.
With over 10 veterinarians and 60+ support staff, Animal Health Services is a 24 hour Pet Urgent and Critical Care Center as well as a full service veterinary hospital offering services ranging from vaccines to CT Scans. In 2010 Animal Health Services was nominated in the top 10 for "Hospital of the Year" by the American Animal Hospital Association. This full service facility uses state-of-the-art emergency, diagnostic, surgical and alternative medical treatments to provide a full array of choices for companion animal owners for the healing of their pets.
In 2006, Dr. Faver founded a dermatological wellness and grooming center for pets located in Animal Health Services. With assistance from his grooming department, a marriage of veterinary medicine and natural skin therapies using Iv San Bernard products has healed numerous pets with skin disorders as well as helping able-bodied pets maintain the health and beauty of their skin and coats. After years of witnessing the truly amazing results from the Iv San Bernard products, Dr. Faver became the US distributor for the company in the latter part of 2011.
Dr. Faver is also a member of several national committees and associations such as Novartis LEAD Committee, Hill's Global (International) Veterinary Board, Veterinary Management Group #14, American Animal Hospital Association (AAHA), Arizona Veterinary Medical Association (AzVMA), American Veterinary Medical Association (AVMA) as well as his hospital being a Hill's Pet Nutrition test site.
Email: drfaver@isbusa.com
Phone: 855-464-8726 x 700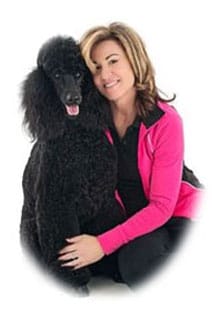 Product & Grooming Consultant
Suzanne Marchetti
Suzanne is an experienced groomer and business owner with 35 years of grooming experience and 24 years owning her own business. Her most recent business was Uptown Paw in Huntington Beach, California where she ran a 6,000 ft2 cage free daycare, boarding, and grooming facility.
Suzanne is well established in the grooming and showing community. She is a charter member for both the Southern California Professional Groomers Association (past president) and California Professional Pet Groomers Association. She is a Certified Pet Aesthetician with Iv San Bernard, has a Companion Animal Hygienist (CAH) certification from Western World Pet Supply Association, is working on her International Professional Groomers (IPG) certification and is an award winning international competitive groomer. She is an owner, breeder and AKC licensed professional handler as well as a board member for the Burbank Kennel Club.
Suzanne trained with Iv San Bernard under Monique van de Ven, founder of the Iv San Bernard School in Tuscany, Italy. She is well versed in therapies, ozone treatments, grooming for show and competition, as well as routine care for the skin.
She also has additional knowledge of veterinary medicine from her 16 years work experience in veterinary care. Suzanne consulted for Board Certified Veterinary Dermatologists who were struggling with using only empirical treatments. She is a master at growing and/or restoring a healthy coat for the dogs in the show or competition rings and is well respected by handlers of some of the top show dogs in the country. Her skill as a groomer and her vast knowledge of the Iv San Bernard products make her an amazing consultant from the routine case to the most difficult cases you may have.
Email: suzanne@isbusa.com
Phone: 855-464-8726 x 705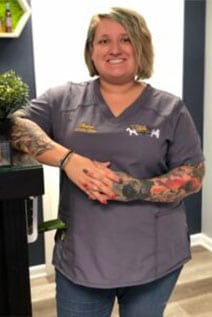 Product Consultant
Heather Hudson
Heather has been a professional groomer for 13 years and has owned her salon, StylaPet Dog Spa, for 11 years in New Lenox, IL. In her salon, she has always focused on using only the highest quality pet products available and believes that when it comes to grooming you shouldn't have to sacrifice your pets comfort for style. This is where her love for
Iv San Bernard began and she has been using it exclusively in her salon and on her personal dogs since 2018.
Heather travels the country competing in grooming competitions and dog shows. Always an advocate for continuing education, she never stops learning and pushing herself in her goal to be the best pet stylist she can be, as well as helping to train the next generation of professional groomers. In 2017, Heather finished as the #12 groomer in the country and the #2 competitive groomer in IL. She is also a Nationally Certified Master Groomer through the National Dog Groomers Association of America as well as a Certified Pet Aesthetician through the Iv San Bernard training program. In 2019, she traveled across the sea to teach at the Iv San Bernard Mega Show in Empoli, Italy.
She has a strong focus on terriers and wire coated dogs and has shown her Lakeland Terriers in the dog show and grooming competition ring with much success. She also has a passion for working with dogs with skin problems and helping to relieve the issues we see our clients suffering from on a daily basis. Her use of the Iv San Bernard products in her salon have not only given her a lesson in the benefits these products have on your everyday salon dogs but also the best ways to incorporate Iv San Bernard products and techniques into everyday salon life.
Email: heather@isbusa.com
Phone: 855-464-8726 x 704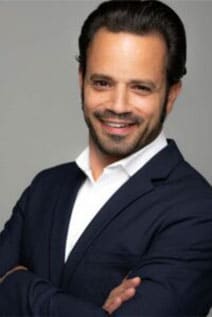 Business Development Manager
Steven Tadros
Steven Tadros, from Montreal, Canada moved to Italy after his studies and ended up living there for 26 years. He got involved with IV SAN BERNARD in 2004 when he became the Export Manager of the Italian Headquarters and remained in that position for just over 12 years. He helped enhance business growth by consulting, developing, and maintaining Official IV SAN BERNARD Distribution in more than 25 worldwide locations, such as USA, Canada, France, Russia, Singapore, China, Japan, Lithuania, Poland, Malta, Germany, Indonesia, etc.
Implemented and monitored customized business and market plans for international clients' forecasted quantity volume and profit. Efficiently supervised and consulted the sales staff to ensure compliance of all export objectives and design/sales strategies according to customer requirements. He also had the chance to collaborate with the owners to fabricate new well-received and profitable product lines. Life brought him back to Canada where he lived for a brief period and then while talking to his old friend and business client Dr. Faver, he was offered to hop on board ISB USA to help with the growth of the company given his experience. Honored and very excited for this new chapter he accepted and is ready to do whatever is needed to help.
Email: steven@isbusa.com
Phone: 855-464-8726 x 703