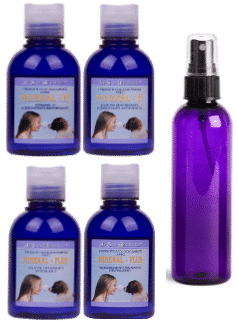 Mineral Mist–To Help the Hair and Skin.
There are four mineral lotions; 2 for hair that provide the raw materials for hair growth and to strengthen hair shaft. Great for regrowing hair from shave downs, matt removals, injuries and much more! And 2 mineral lotions for skin that boost the skin's immune system and provides an anti-bacterial effect.
Vitamina H Lotion – Trace minerals and vitamins that work on the hair bulb that give raw materials for hair growth
Reinforce Lotion – Vitamins that work directly on existing hair to strengthen hair shaft and support the coat.
Oligo Elements – building blocks of skin and hair. Also boosts immune system by providing minerals that are necessary for body systems to communicate with each other.
Anti-itch Lotion – Anti-bacterial & Anti-Itch
Directions for mixing
Pour equal amounts of each (a capful works well) in a 2oz spray bottle and apply onto a clean dry pet onto the affected areas and let absorb. For more information please call our product consultant at x 705
©FAQs and recommendations are copyrighted and property of Iv San Bernard USA. DISCLAIMER: Any recommendations given are not meant to replace the medical care or diagnostics of a licensed veterinarian. These are recommendations based on the description provided by the owner and/or pet skin care provider/groomer. In all abnormal pet dermatological situations it is highly recommended to have an examination and diagnosis by a licensed veterinarian prior to any treatment. Some skin and hair problems can be a result of an internal or deep dermis condition that should be diagnosed by veterinarian. Iv San Bernard USA accepts no responsibility or liabilities resulting in the improper or inappropriate use of their products.
DISCLAIMER: When creating sprays and lotions outside of the manufacturers original packaging, it is highly recommended to label the containers with details of the product and contents while heeding OSHA and the prevailing laws of your area. Iv San Bernard accepts no responsibility for products compounded or re-dispensed or sold in unoriginal packaging.