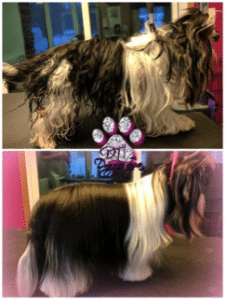 The most common reason for matted hair is dry hair where the hair shaft cortex opens up from lack of sebum. Once this occurs, the hair sticks together like Velcro. With that in mind, one of the first things we need to do is hydrate the hair in the matt to try to reverse the situation. We do this by using the CLOSE (hydrating conditioner)-OPEN (mild shampoo)-CLOSE (hydrating conditioner) technique. The next part is creating a slip with oil or a plant based silicone to allow the hair to slide on itself easily.
You can use any Iv San Bernard conditioner and shampoo for the CLOSE-OPEN-CLOSE technique of dematting. Depending on the severity of the matt, you can also add a few drops of K101 to the first "close" stage and/or the "open" stage. You can also add our PEKs, K101 (sparingly), and conditioners directly into the matt to detangle.
Granted, a pet that has become completely matted cannot escape the clippers, but you will surprise yourself on the coats you can save using this technique!
Photo courtesy of Jeanette Anson, Owner of Dressed to Impress Doggie Spa