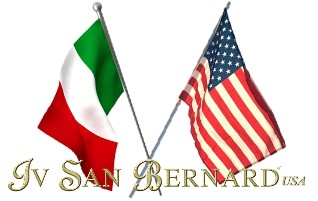 Iv San Bernard products are an exclusive line of fine Italian pet spa products. Iv San Bernard was described by European press agencies as a leading company in the pet field in quality, design and marketing. They are the top-selling pet grooming products in Europe and China now available in the United States!
This is a product unlike any you have seen before.
C & K Distributing, LLC owner and managing partner, Cliff Faver, DVM, became the exclusive wholesaler of Iv San Bernard products in the United States. We carry a fantastic line of retail products for the personal buyer or offer bulk items for grooming shops.
Not only is Iv San Bernard USA's managing partner a licensed veterinarian, we also have a Certified Pet Aesthetician, and Certified Veterinary Technician, along with ours with experience in the grooming industry at your disposal. Unsure how to use a product? Call our Certified Pet Aesthetician and Product Consultant for help. Read more about our staff here.
Iv San Bernard , founded in 1995, is the leading European manufacturer of animal care products from Italy. ISB produces an array of products designed for various types of coats and proper skin management , with all products based on natural ingredients. Special attention to the skin, hair and health of the animals through proper product use, selection, technical support and training is one of ISB's strongest attributes. ISB's mandate is to provide customers with product, technical and marketing support which will get them away from the "shave-wash-pay-go" cycle.
Thanks to these attributes and its mandate, ISB  is now distributed in over 35 countries, including Canada, USA, Mexico, Japan, China, Taiwan, Hong Kong, Singapore, Indonesia, Uruguay, Brazil, Saudi Arabia, Malta, most European countries, and Russia. ISB products improve your grooming results thus increase customer satisfaction. ISB also has a tremendous line of retail products for groomers and pet boutiques, from the high end ATAMI Line, to the Fruit of the Groomer Spa Line, to the Traditional Line, SLS Free Mineral Red Line, Black Passion and finally to the economy Vanesia Line. Visit the Italian Home Site Here.
CRUELTY FREE
ISB supports the humane and ethical treatment of all animals.