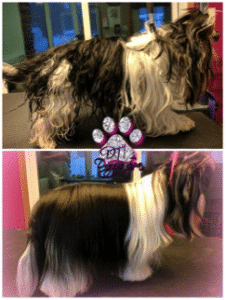 Close-Open-Close Technique
There are many other coat issues, besides allergies and skin issues, you see every day, and we have solutions for those as well. It is not only the products that help, but also the grooming technique. For most other issues, we recommend the technique CLOSE-OPEN-CLOSE which is hydrate-cleanse-hydrate.
DEMATTING – The most common reason for matted hair is dry hair where the hair shaft cortex opens up from lack of sebum. Once this occurs, the hair sticks together like Velcro. Using proper products and techniques can save many a pet from the clippers. We recommend the CLOSE-OPEN-CLOSE technique to hydrate and close the hair shaft. Any of our shampoos and conditioners can be used for dematting but our super hydrating PEK's from Fruit of the Groomer and our Black Passion line works the best.
For even better results, add a few drops of K101 to the first CLOSE step and use SIL Plus in the shampoo to create slip while brushing. You will surprise yourself on what you can do!
DEGREASING – Oil dissolves oil. We again recommend CLOSE-OPEN-CLOSE to address this issue. Any of our shampoos and conditioners can be used and for severe cases, try our Specialty Technique line. And remember, you must replace the sebum you removed, so condition!
SKUNK DEFUNK – Skunks spray an oil, so like degreasing, oil dissolves oil. These directions really get the odor out! You may have bath again after a week or so, as the oil starts to come out of the deep pores of the skin.
SKUNK PACK INSTRUCTIONS
DRY COAT – while our Mineral Red line really addresses and changes a dry coat, you can also use the CLOSE-OPEN-CLOSE technique with our other, routine bathing lines for a very dry coat: Traditional, Traditional Plus, Black Passion, Caviar and Fruit of the Groomer.
Suzanne Marchetti has developed a treatment for extremely dry coats or to prepare for showing – Suzanne's Hydration Recipe
The Mineral Red Reconstruction Kit has everything you need to repair and restore a dry and damaged coat. In three bathes (10 days apart) you can restore your pet's coat.