The 2nd Edition is here!
Dr. Faver teaches over 5 hours of instructional video! Now you can learn the Science of Skin with our convenient video learning series and receive your certificate for The Science of Skin.
This video series teaches you the Basics of Hair & Skin Science, the needs of the Short, Medium and Long coats, Therapies and much more! The Science of Skin videos stand alone but they are also Module 1 of our Certified Pet Aesthetician Program. Once you have finished the series, take the tests to receive a Science of Skin Completion Certificate and then move onto the next module. (These videos are for EVERYONE even if you are not interested in the CPAe program.)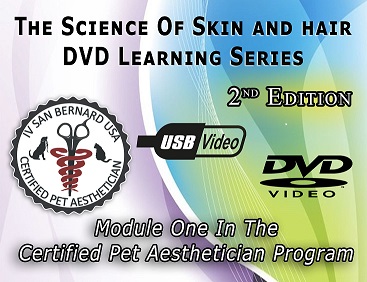 Get a CERTIFICATE! Once you pass your tests, you will receive a certificate for passing the first module (The Science of Skin) and you may move on to the next module.
The videso may be viewed by anyone at the same location however the price includes testing for just 1 person. If additional persons wish to test, they may do so for $60. You must contact a sales representative to order additional tests at 855-464-8726–have your package serial number ready located on the box, in the handbook, or the original testing certificate!
2 DVDs or 1 USB drive
Full color illustrated workbook
Testing for 1 student: a $60 value!
The Science of Skin Certificate of Completion 
Designer storage box
LEARN ABOUT: 
Foundation of Coat Science
Needs of the Short Coat
Needs of the Medium Coat
Needs of the Long Coat
Defining Coat Types
Learning Skin Therapies
Allergies-Bacterial & Fungal, Infections, Parasites and much more!