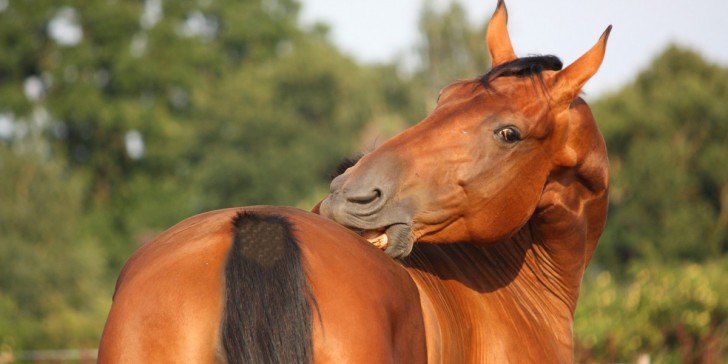 Summer or sweet itch is often associated with flies and/or dry skin so depending on the main issue there may be more than one approach to the issue.
FLIES OR GNATS
We recommend treating when you start seeing the flies and gnat because once there is an open or abrasion area, we recommend using our therapy instructions as the products used below could be irritating in an open wound.  Many horses have very sensitive skin, so if you have any concerns it is always a good policy to try these products in a small area 24 hours before a whole bath to rule out any issues.  These products leave the horse smelling much better than typical fly sprays which doesn't repel other horses.  Be aware if you have a horse that likes chewing on others.
Three ways of addressing the issue of flies and gnats are:
Work at decreasing the smell
Work on the repellent side
Work on both
RECIPES FOR FLY AND GNAT ISSUES (when no open wound is present):
# 1 RECOMMENDATION

---
STEP 1

Repeat this recipe weekly or monthly as needed
Bath with ks anti-smell shampoo ( 1:5 dilution with warm water, sponge on whole horse, leave on for 5 minutes, rinse well).
STEP 2
Condition with 2/3 lemon conditioner and 1/3 protective shield conditioner (1:5 dilution with warm water if possible, sponge on whole horse and leave on for 5-10 minutes, rinse well
BETWEEN BATHS spray with a large spray bottle this combination of product:  2/3 lemon conditioner and 1/3 protective shield. Dilute 1:8 or 1:10 spray on areas of concern, if heavy sweating, rinse before applying spray for best results. Brush conditioner mixture in with a soft brush to distribute product more efficiently, then rinse and dry.
---
#2 RECOMMENDATION
STEP 1
Bathe with KS anti-smell shampoo dilute 1:5 let sit 5 minutes rinse well
Condition with protective shield conditioner 1:5 dilution let sit 5 minutes rinse well
Other options for shampoos and conditioners:
All of these are 1:5 dilution and 5 minutes for each step to sit on the animal
Protective shield shampoo and conditioner
Peppermint shampoo and mint conditioner
Options for daily or as needed sprays
KS odor stop coat spray (ready to use)
Protective shield conditioner ( 1:8 -1:10 dilution with water)
Mint conditioner (1:8 -1:10 dilution with water)
PRODUCT LIST
– PROTECTIVE SHIELD CONDITIONER