Train to become a Certified Pet Aesthetician!
Iv San Bernard Spa Therapies Grooming Certification
To become a Certified Pet Aesthetican there are 3 modules. (program limited to residents of US Territories and Canada)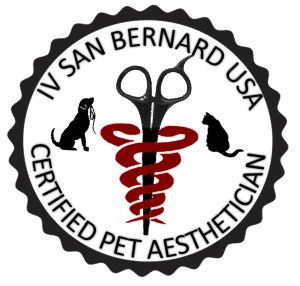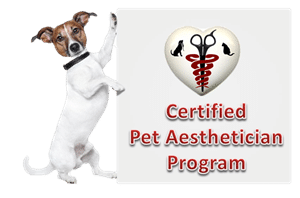 MODULE ONE
The Science of Skin DVD Learning Series! $219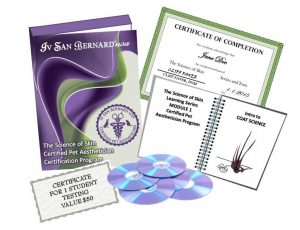 Purchase the The Science of Skin learning series for an in-depth education on Foundation of Coat Science, the needs of the Short, Medium and Long Coats, Therapies and much more! Once you have finished the series, take the tests to receive a Science of Skin Completion Certificate and then move onto the next module. (These DVDs are for EVERYONE even if you are not interested in the CPA program.)
"After 20+ years of grooming pets, I found myself feeling a bit like I was living the movie Groundhog Day. Every day was the same as the last. I was ready to start feeling like I was making a difference in the health of the dogs I was grooming instead of just bathing and Styling them.
The Certified Pet Aesthetician course was exactly what I needed to jump start my career and get me excited about my business again.
 After watching the very first DVD my business changed. The way I had been taught to bathe, the products I had always used, the methods I had used for over 20 years ALL OF IT immediately changed. I was seeing Improvement in the troubled skin that I had been putting a Band-Aid on for years. This course has given me the knowledge to make the dogs I groom healthier. 
The team at Iv San Bernard has been an invaluable resource in every aspect of this course as well as the business changes I have implemented since completing my certification." 
Jeanette Anson -CPAe, 
Dressed To Impress Doggie Spa
"I learned a lot more about skin and hair care than I thought I would. It is also broken down into small enough sections that make it easy to retain the information." -Tina Crawford, Certified Pet Aesthetician – THE DOG ZONE
3 learning DVDs
Full color illustrated workbook
Testing Certificate for 1 student A $55 value!
The Science of Skin Certificate of completion 
(following a passing test)
Designer storage box
LEARN ABOUT: 
Foundation of Coat Science
Needs of the Short Coat
Needs of the Medium Coat
Needs of the Long Coat
Defining Coat Types
Learning Skin Therapies
Allergies-Bacterial & Fungal, Infections, Parasites and much more!
Get a CERTIFICATE! Once the tests are passed you will receive a certificate for passing the first module (The Science of Skin) and you may move on to the next module.
The DVDs  may be viewed by anyone at the same location however the price includes testing for just 1 person. If additional persons wish to test, they may do so for $55. You must contact a sales rep. to order additional tests at 855-464-8726–have your DVD serial number ready located on the box or the original testing certificate!
MODULE TWO- by Invitation Only
CASE STUDIES & STARTER KITS
MODULE TWO:$220 per student + Starter Kit

To proceed into Module Two of our Certified Pet Aesthetician Program you must receive an invitation after completing the Science of Skin DVD learning series and passing the tests.
Once you receive your invitation contact one of our sales representatives at 855-464-8726 to get signed up for Module 2. Have your credit card ready to process your student fee and starter kit. It is recommended you are by a computer for this phone call so the sales rep. can show you the various kits available. In order to perform therapy case studies and maintenance procedures you must have the proper supplies. (You are not required to buy the starter kit if you already use our products however, this is a one-time below wholesale purchasing price for students only-it will be the best deal you get on products-ever) You will also be able to purchase the ozone machine at this time at student pricing for $1,429.99. (see below)
To pass this Module you will be supplied with an Instructional Manual in order to submit a minimum of 2 case studies based on therapies, 3 maintenance procedures for each coat type, medical records keeping, medical terminology and will be tested on an evaluation of the tools and products used for the case studies and procedures.
Canadian residents must contact the Canadian ISB supplier for products.  The CA supplier sells products individually and prices will vary.
To purchase MODULE 2 and your starter kit please contact us at 855.464.8726
Hydro-Massage Ozone Machines are offered at a deep discount for participants in this program please contact us if you are interested in taking advantage of this one-time offer for participants in the Certified Pet Aesthetician Program. Using Ozone greatly decreases the recovery time!
MODULE THREE
ON-SITE TRAINING & TESTING $600
We have increased class time from 2.5 days to THREE FULL DAYS! and we now include lunches and snacks while in class.
By Invitation Only!
Your final steps to graduation!
ON-SITE TRAINING and TESTING at ISB Grooming School located in Animal Health Services Veterinary Hospital in Cave Creek, AZ.*
January – Completed!
August 4-6, 2017
October 13-15, 2017
You must have your Module 2 case studies post marked and mailed one month before testing. Please do not make travel arrangements until you are notified if you passed or not. Questions? Please email:info@ivsanbernard.info
Contact info@ivsanbernard.info to get invited to the Module 3 testing schedule. You must pass Module 2 in order to schedule testing.
Spend 3 days at our ISB USA Grooming Spa and get hands-on training with Suzanne Marchetti and Dr. Cliff Faver.
Day One: Classroom Lessons: Skin and Coat science, Medical Applications. (or wet labs may be interchanged)
Day Two: Hands-On Wet Labs (Days 1 and 2  may be interchanged based on DVM availability)
Day Three: Testing & Marketing your certification, Diploma Presentation
Your testing and training will be evaluated by a Suzanne Marchetti ,Certified Pet Aesthetician, and Cliff Faver, DVM. Once you have passed your testing, you will receive an ISB Certified Pet Aesthetician Document and Certificate authorized by a DVM on the ISB education board. By completing this program you not only will be a unique and qualified ISB Certified Pet Aesthetican, with the skills to be a spa therapies groomer you will also receive spa marketing education and materials to announce to the world about your certification and what makes you different.
 "This has been a priceless experience and a journey I'm so happy to have made. I've had a great support along the way and feel vastly improved now as a professional. I can't wait to return to AMCV and better serve both my pet and human clients." – Rachel Ihlenfeldt, Certified Pet Aesthetician – ANIMAL MEDICAL CENTER of the VILLAGE
To get started you must have completed Module 2 and received your grade and invitation to move forward into Module 3. Once you have, please contact our sales representative to pay for your module 3 855-464-8726 and to get on the schedule (Do not pay/call for the Module 3 unless you have already received your Module 2 grade and invitation.)
Module One of The Certified Pet Aesthetician Program is attending The Science of Skin Webinars. GREAT NEWS!! You no longer have to try to attend our webinars! You may now get your education with The Science of Skin DVD Learning Series! Watch this informative video about how to proceed into the Certified Pet Aesthetician Program! (Ignore the webinars info and instead get our DVD series